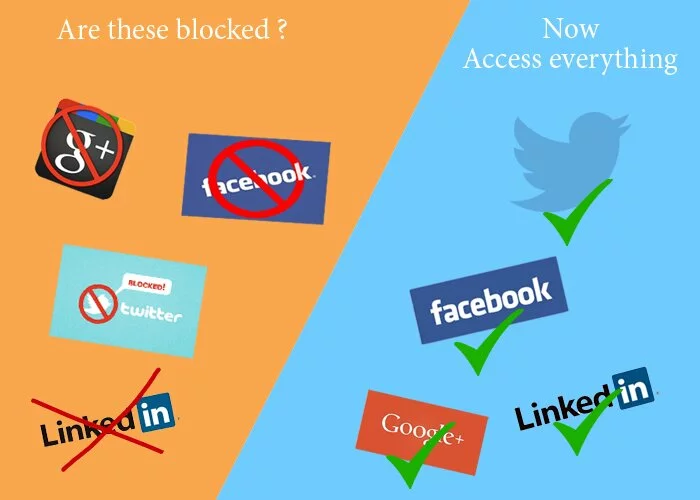 There are many ways to access the blocked websites. There are so many ways listed on many websites on internet, but non of them works exactly.Most of them say to use short urls, translation service, proxy changing in browser but non of them will work. In many colleges and institutions ,  facebook , twitter and many social networking sites are blocked , if you want to access those sites then you are at right place. Here I'm going to describe only tested and working ways to access the blocked websites from anywhere. If any of the steps didn't work for you then look at the last option that will definitely solve the problem.
1. Using a vpn service
Using a vpn program you can hide your ip from your college firewall or any other blocking settings. Thus you can access any website anonymously If you use vpn then all your computers internet will be tunneled and hence you can do anything like updating the system, by downloading the updates which may be blocked.
Disadvantage of using vpn is the very slow speed. also if you use free vpn services then they will put advertisements everywhere on sites you visit.
The vpn client which I used so far is Spot flux. which provides the tunneling of your internet connection easily.This client also puts ads on the websites. but at least you can access your favorite websites. To download spot flux , search for it on google and you can download it from their official website.
2. Using  proxy servers
Using proxy server is very easy. You just have to visit some proxy service websites and enter the url of the website you want to visit. That will open the website for you. This also works same as vpn. but this doesn't tunnel your traffic. instead it changes your ip address and hence the firewall can not stop you from accessing any website.
To use this type of method,make sure your college or office network has not bloked the proxy website itself. There are so many websites to access blocked site, The one I tried is hidemyass.com. you can also search for other on google.
By using this method your all computers traffic is not tunneled and hence you can't download anything using download managers or any other method. If your download is blocked then you can use the first method by using vpn. else you can also use the third one and most successful one.
3. Using a chrome plugin "Browsec"
The most successful and working way is by using the "browsec" plugin. If you are using chrome browser then luckily you can use this plugin to change your ip locations , and you can access any blocked websites normally as you do on your personal internet connections. You can download any stuff using the built in chrome download manager.
The advantage is that no advertisements will be placed on any site. Its just as simple as using normal internet connection. You have to download the plugin from chrome store and just enable it and you are done.
If none of the steps worked for you then let me know by comments below.