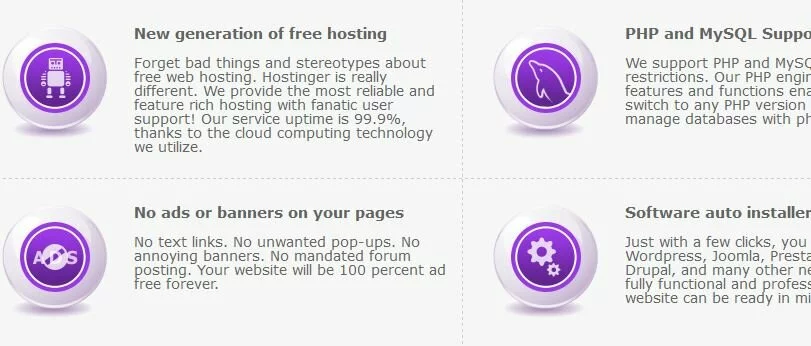 Hostinger is the best free hosting provider available now. It's a large group of free hosting providers with some premium hosting providers also. Their service is available in many countries and in some they have only premium plans.
I have been using their free hosting at hostinger.in for a few months and I was very surprised with their service. I have still hosted my few sites on hostinger. So here I have my review on hostinger.in
1. customer support
I will talk about customer support first because it's the main thing you should look for while choosing a hosting service. When you get some server errors or you need some extra information or anything you have the only option is customer support. I was very happy with the customer support because they are very serious about their customers. I have opened the support ticket for many times and they did replied in time. Once my website went down and when I contacted them they just replied in a minute and they solved issue.
2. Pricing
Hostinger does provide free plans but they have premium pans also. You can have your premium hosting with a very little price and also if refer your friends then you can get the premium plan with unlimited features for free. Also they have private vps servers if you want all the control over your hosting with root access which also comes in very low price tag.
3. Server up time
They say that 99.99% of server up time but they do have restrictions on their free hosting plans. Such as the daily limit of visitors is only 250. And bandwidth is about 100gb. But as a free hosting you can not complaint them.
Extra features
Site builder
You can easily build a your website with the free available zyro site builder. It comes in very handy when you are creating your website for the first time. It doen't require any coding knowledge to create a website.
ftp accounts : 2
sql database : 2
email account : 2
subdomains : 2
parked domain : 2
Cronjobs : hourly or grater
Php version : about 4 different versions
I had a good experience with hostinger and so I recommend to give it try when you are creating a website first time.
I have written  an article to create a website with hostinger and to create a blog website. see below if they can help you.
Create a website with hostinger.